In this series, I put together portraits which I was either asked to take by my acquaintances and not-so-familiar people for various purposes or I myself initiated their creation. Although, generally speaking, these are the same portraits as editorial headshots, but they were made with greater creative freedom.
Tata
Tata is a young and talented filmmaker. She is also my very old friend, with whom we love to discuss movies and photos. Now she lives in Germany, but every time we meet I make a new portrait of her.
Paulina
Paulina, a young artist, has dreamt of having her portrait taken by me — and her wish came true after I've seen her face which reminded me of Middle Age ladies.
We agreed on an outdoor portrait session in both color and B&W and — luckily for us — managed to spend an hour, making good use of the soft afternoon light which highlighted her skin tone so beautifully.
Maria
Maria is the daughter of a talented Russian architect who is famous for his projects of large and stunning country houses. He wanted to have a portrait of Masha at the age when children grow up and change very quickly. This young lady is an adorable child, who enjoys having her pictures taken.
These portraits were made during a photo shoot about architects and their children, commissioned by a famous Russian architecture magazine. I worked on it as an assistant to the chief photographer. I took such a liking to Maria that I offered her father to take several portraits of her while the main photo shoot was taking place.
Yuri Amigo
Yuri Amigo is a Russian actor with a foreign-sounding surname and a very impressive and unusual appearance. I made this studio portrait of him prior to the 50th anniversary of his artistic carrier for a theatre magazine article about him.
We met in the theatre and looked for a while for a suitable shooting site. During the search, we were struck by an idea to simply go to a small stage where no performances were scheduled for that day.
I set up flashlights straight at the stage and used the curtain as a background, which I requested to be put down for a while.
As we all are always short of time, Yuri first prepared for a performance he was playing in — Mikhail Bulgakov's Zoya's apartment — and put on stage clothes.
German Vinogradov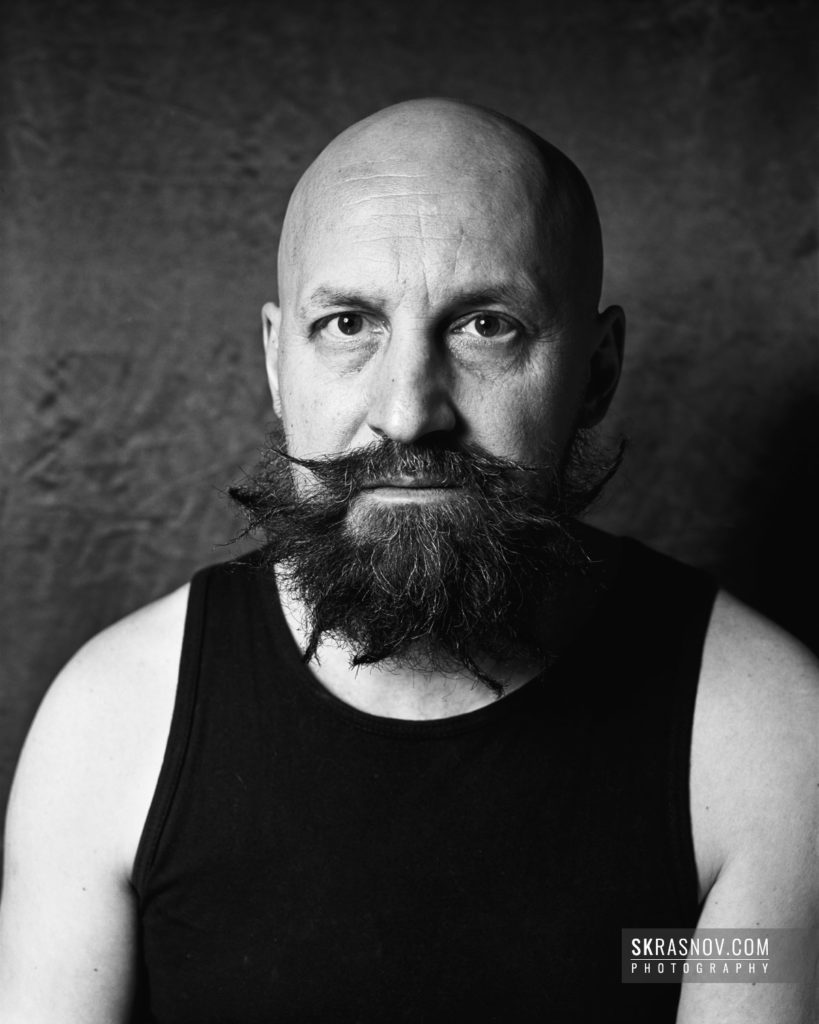 German Vinogradov is a Russian artist famous for his ritual-like performances.
He still occasionally stages them in his apartment in central Moscow, using various objects made of metal, such as pipes and debris of machine parts, and those embodying key elements — fire, water, earth, and air — to produce an engulfing experience.
German Lukomnikov
German Lukomnikov is a poet and performer, who has authored over 12 poetry books. In 2015 he got 2nd place at the Worldwide Poetry Slam in Paris. But he is not just a poet, he is also a palindromist who makes up sentences that read the same backward as forward.
He is also a children's writer working under a pseudonym "Bonifacius" after a lion cub from the Soviet cartoon, whose mane resembled German's hairstyle.
Once he asked me to take a portrait of him for a poster promoting one of his performances in Prague. We decided to go with a headshot making his eye expression look a bit crazy.
Boris Romanov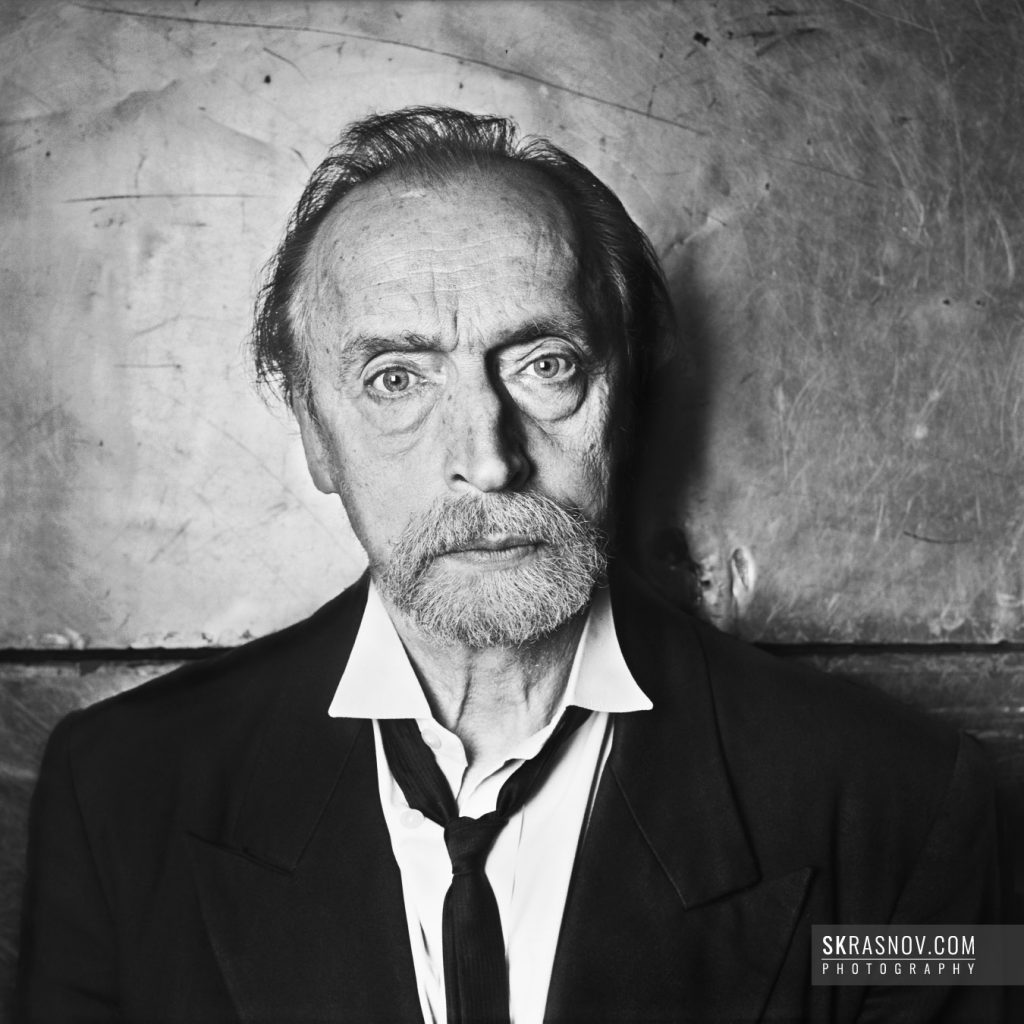 Boris Romanov is a very famous and, most importantly, talented Russian actor with a distinctive character. He no longer stars in movies but does a lot of theatre work.
It was my good friends from the Moscow-based Hermitage Theatre who commissioned me to take a portrait of Boris for his 65th birthday.
There is such a tradition in Russian theatres: in a lobby of any theatre, you can find photos of actors who have ever been associated with it and trace its entire history.
It was hard for Boris Romanov to find the time for a photoshoot because at that time he was engaged in a number of plays. So we finally decided to do it at the rehearsal room in the interval between his appearances on the stage, which lasted about 15 minutes. I prepared the light in advance, and when Boris came in he was obviously in his stage costume. As a background, I used a metal-plated wall, which added this glowing effect.
Vladimir Gusev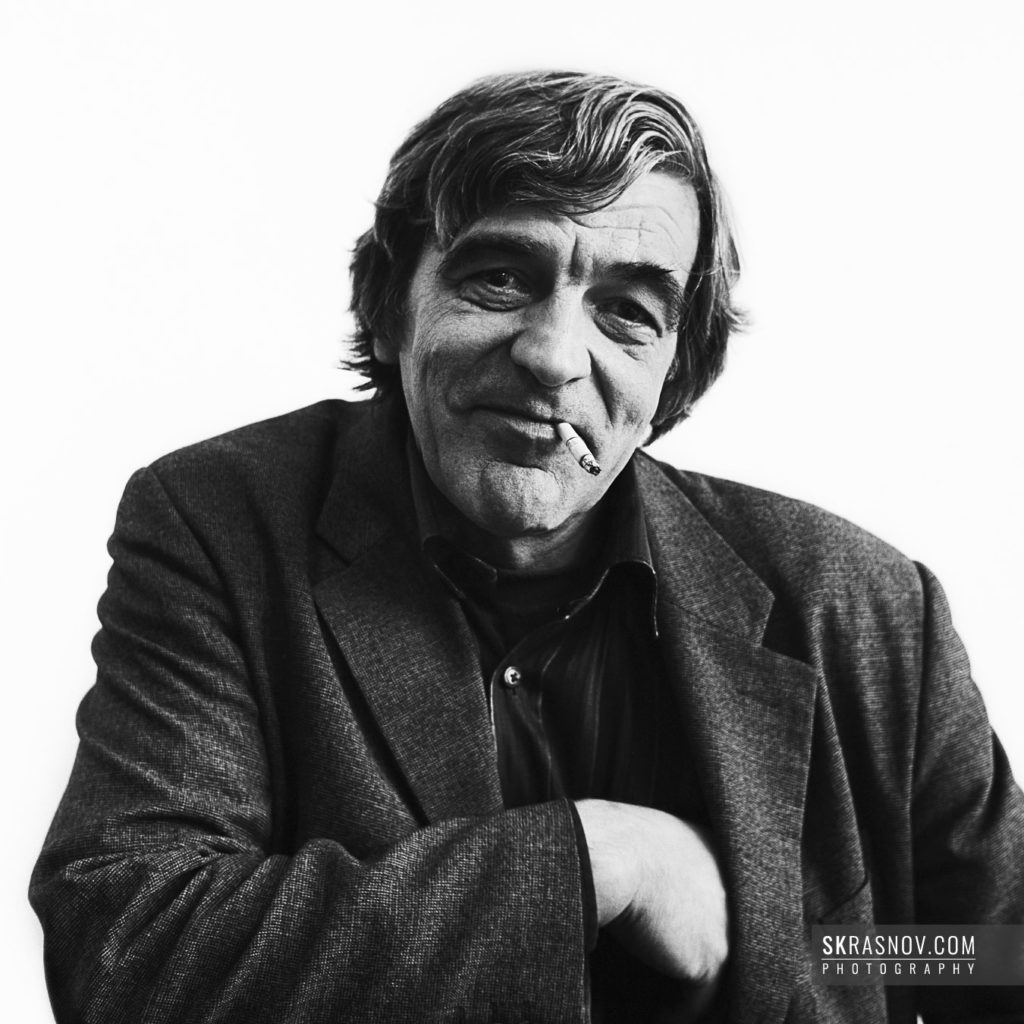 Vladimir Gusev is an interesting and authentic Russian actor. I got to know him when I did several portraits of actors for the Moscow-based Hermitage Theater. Before that, I had already seen several plays starring him and wanted to make his portrait.
We agreed that we would meet at the theater, and I had found a location for future shooting while waiting for Vladimir Gusev to finish his rehearsal. We began to discuss the shooting, I explained to him my vision and set about the shooting. But all the images turned out "closed" as if we were separated by a wall.
I had only a few shots left on the film roll, we paused, and he started smoking and seemed to calm down a bit. Then, he reached into his pocket and began to get something out of it like a magician, who puts something in one pocket and pulls it out of another. And it was precisely at this moment that he seemed to open up, the wall disappeared and managed to take this shot.
Damien Hirst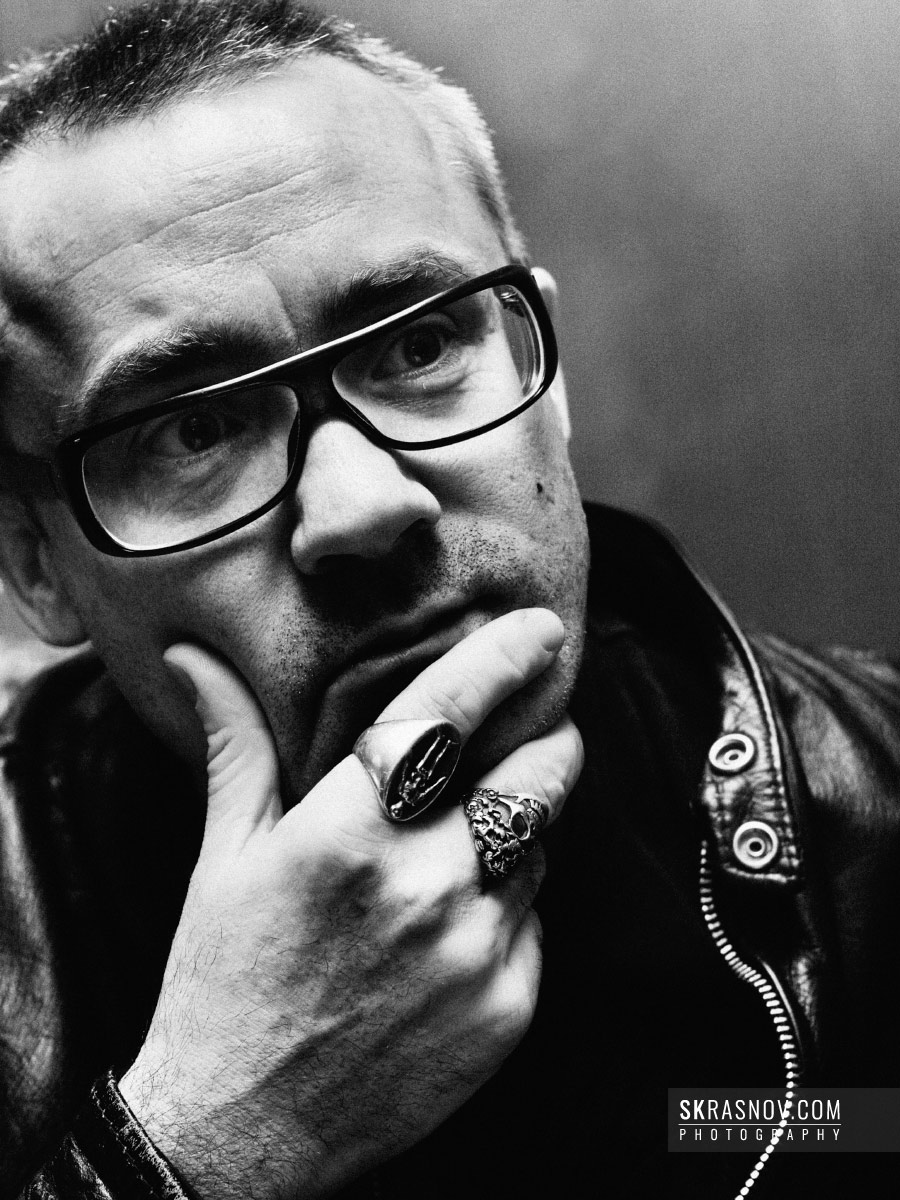 Damien Hirst is one of the most prominent representatives of so-called Young British Artists (YBA), a generation of postmodernist artists that came to prominence in the UK in the late 80s.
I got a chance to shoot Damien Hirst, reportedly the UK's richest living artist, when came to Moscow in mid-2000s to take part in a closed exhibition organized by Russian tycoons.
He looked a bit detached from reality, maintaining his iconic status.
Dmitri Vrubel
Dmitri Vrubel is a Berlin-based artist of Russian descent famous for his masterpiece My God, Help Me to Survive This Deadly Love.
This work is one of the best-known graffiti on the Berlin Wall, which embodies all the idiocy that was going on in the countries within the Soviet bloc at that time.
I was asked to make his portrait ahead of the anniversary of its creation to go with an article about Vrubel in an art magazine.
Viktor Yerofeyev
Viktor Yerofeyev is a Russian writer famous for his "anti-socialist realism" style, one of the most prominent examples of which is his book Life With An Idiot. It is this book which inspired famous composer Alfred Schnittke to write a namesake opera that was premiered in Amsterdam in 1992.
Another novel of Viktor Yerofeyev — Russian Beauty — won him a reputation in the West as a Russian writer who was bold to the point of physiological vulgarity.
This portrait of him was commissioned by Polish men's magazine to go with an interview with Viktor Yerofeyev about the Polish literature and culture, which he had a good knowledge of after spending many years there with his Polish wife.
Valery Koshlyakov
Valery Koshlyakov is a famous Russian artist living in Paris. His road to fame started at the Iskusstvo ili Smert (Art or Death) movement, which was one of the most provocative and outstanding groups of young artists during the Perestroika period.
One of the distinctive features of his style is frequent use of cardboard from packaging boxes for household appliances, as well as a colored adhesive tape placed directly on the wall.
I have known other members of this art group, which included not only artists but also poets, for many years. Valery once complained to me that he was about to hold a major exhibition, but did not have a good portrait of him for a complete catalog of his works.
In that case, I decided to disregard all the rules and make his portrait in profile as if it was a bas-relief on a commemorative medal.
Marina Aleksandrova
Marina Alexandrova is a popular Russian actress, who is especially famous for her role of Russian Empress Catherine the Great.
She is not really well-known outside of Russia, having starred in just a handful of foreign films, which I find pitiful. And I bet that a woman warrior character in an international fantasy movie will really fit her.