In this series, I put together portraits which I was either asked to take by my acquaintances and not-so-familiar people for various purposes or I myself initiated their creation. Although, generally speaking, these are the same portraits as editorial headshots, but they were made with greater creative freedom.
Tata
Tata is a young and talented filmmaker. She is also my very old friend, with whom we love to discuss movies and photos. Now she lives in Germany, but every time we meet I make a new portrait of her.
Paulina
Paulina, a young artist, has dreamt of having her portrait taken by me — and her wish came true after I've seen her face which reminded me of Middle Age ladies.
We agreed on an outdoor portrait session in both color and B&W and — luckily for us — managed to spend an hour, making good use of the soft afternoon light which highlighted her skin tone so beautifully.
Maria
Maria is the daughter of a talented Russian architect who is famous for his projects of large and stunning country houses. He wanted to have a portrait of Masha at the age when children grow up and change very quickly. This young lady is an adorable child, who enjoys having her pictures taken.
These portraits were made during a photo shoot about architects and their children, commissioned by a famous Russian architecture magazine. I worked on it as an assistant to the chief photographer. I took such a liking to Maria that I offered her father to take several portraits of her while the main photo shoot was taking place.
Mark
I made this portrait of Mark for a Russian charity organization which launched a major fundraising project featuring photographs of terminally ill people.
I spent a day with this young man who looked more like a frail teenager than an adult (he was 21 at that time) and documented his daily life, sharing the foreboding of impending death with his parents.
He passed away just a month after this photo was taken…
Yuri Amigo
Yuri Amigo is a Russian actor with a foreign-sounding surname and a very impressive and unusual appearance. I made this studio portrait of him prior to the 50th anniversary of his artistic carrier for a theatre magazine article about him.
We met in the theatre and looked for a while for a suitable shooting site. During the search, we were struck by an idea to simply go to a small stage where no performances were scheduled for that day.
I set up flashlights straight at the stage and used the curtain as a background, which I requested to be put down for a while.
As we all are always short of time, Yuri first prepared for a performance he was playing in — Mikhail Bulgakov's Zoya's apartment — and put on stage clothes.
Pavel Ruminov
Pavel Ruminov is a Russian film director. I happened to take his portrait during a break in the shooting of his arthouse film Dead Daughters. It starred Dasha Charusha, whose picture I made earlier on commission from a magazine.
With Pavel Ruminov, we agreed to meet separately at a convenient time so that we can take his image without any rush.
I decided to experiment a bit with the light and set two flash heads face-to-face slightly behind him. As a result, the light fell on his face, creating a dark vertical zone in the middle of the face. Such a light helps to reveal the "texture" of a person and adds drama to the portrait, which, in my opinion, fits with the atmosphere of his film.
Eduard Boyakov
Eduard Boyakov is a well-known Russian producer, theater director, and drama teacher, who created the Praktika experimental theater in Moscow. I was offered with taking his portrait on the occasion of the 10th anniversary of the prestigious Golden Mask theatrical award. He not only took an active part in its creation but also helped it gain its high status.
When I got to the shooting location and saw the interior, an idea struck me to put Eduard Boyakov between parallel bookshelves and set the light outside the shelves so that it passed through the rows of books on his face and background in the form of stripes and blemishes.
Such a light somewhat resembles the one used in classic black and white noir films. It is also very similar to stage light, which is used to emphasize the character's disposition.
Alexey Firsov
Alexey Firsov is a very fascinating artist who pioneered his own hyper-impressionist technique called "Lavism". The paint on his canvases spreads like volcanic lava and congeals on the surface in 3D shapes. It fully dries only in three years. The technique is distinguished by passionate brush strokes, explosive colors, and bold thick texture.
Once, a friend of mine asked me to accompany her on a visit to a gallery owner and help photograph the paintings of her father, artist Leonid Borisov. I will write a separate blog post about him out of a fascination with his art. The gallery owner we were visiting exhibited Borisov's works which were supposed to be photographed for a catalog.
And so, we came to her house, set out the paintings and started shooting. Suddenly a strange man approached me from behind and asked:
Are you a photographer?
Yes.
I also used to enjoy shooting, but then give up on it. I took pictures of landscapes to memorize the workrooms I liked. And can you snap me as I have no good pictures of me at all?
Alexey works only outdoors. He tries to remove himself from civilization as far as possible and derives intense inspiration and energy from the wilds of the natural world. He seeks natural objects with a powerful mature and expressive character due to his belief that wild and unspoiled nature possesses greater harmony than the man-made world.
Alexey has almost never exhibited his works in Russia, assuming that they won't fit in any gallery, but he is rather well-known abroad. HIs paintings are owned by such famous people as Prince Michael of Kent, Madonna, not to mention dozens of private collectors all over the world.
Yuri Mamleev
Yuri Mamleev is one of the most significant contemporary Russian writers and philosophers, who attracted scores of unofficial artists in his flat in the Soviet times. He had to emigrate to the United States and then to France after his literary works drew the wrath of the Soviet authorities. It was during the period of his emigration that his books were translated into many languages, published and widely recognized. However, with the fall of the Soviet Union, he was one of the first to return.
I wanted of doing the portrait of Yuri Mamleev for a long time. Many times I tried to arrange his photo session but failed. By that time I already had a documentary portrait, which I made at a literary event in which he took part. But I really wanted to do a one-on-one photoshoot in other technical conditions. My fellow writers helped me organize such session.
Unfortunately, by that time, Mamleev was already visually impaired and had to wear special glasses all the time, which he did not take off during the shooting. They somewhat darkened the area around the eyes, which may seem strange in the photo, but I still consider it a great success that I managed to take his portrait.
German Vinogradov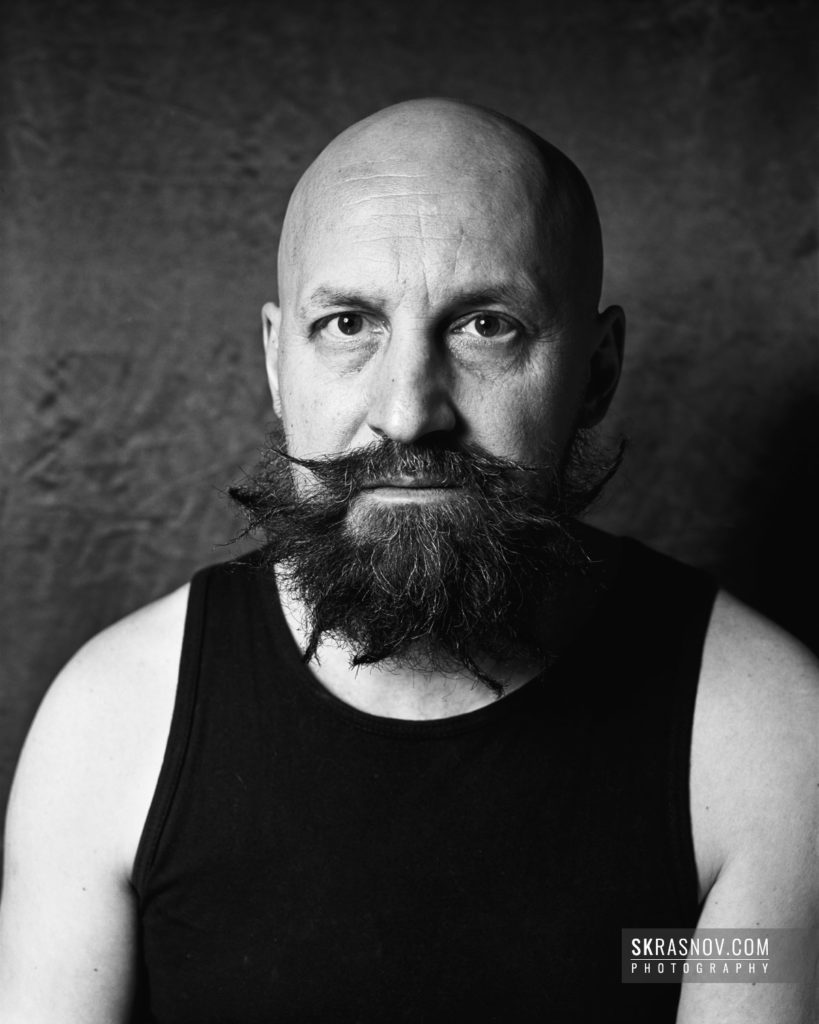 German Vinogradov is a Russian artist famous for his ritual-like performances.
He still occasionally stages them in his apartment in central Moscow, using various objects made of metal, such as pipes and debris of machine parts, and those embodying key elements — fire, water, earth, and air — to produce an engulfing experience.
German Lukomnikov
German Lukomnikov is a poet and performer, who has authored over 12 poetry books. In 2015 he got 2nd place at the Worldwide Poetry Slam in Paris. But he is not just a poet, he is also a palindromist who makes up sentences that read the same backward as forward.
He is also a children's writer working under a pseudonym "Bonifacius" after a lion cub from the Soviet cartoon, whose mane resembled German's hairstyle.
Once he asked me to take a portrait of him for a poster promoting one of his performances in Prague. We decided to go with a headshot making his eye expression look a bit crazy.
Boris Romanov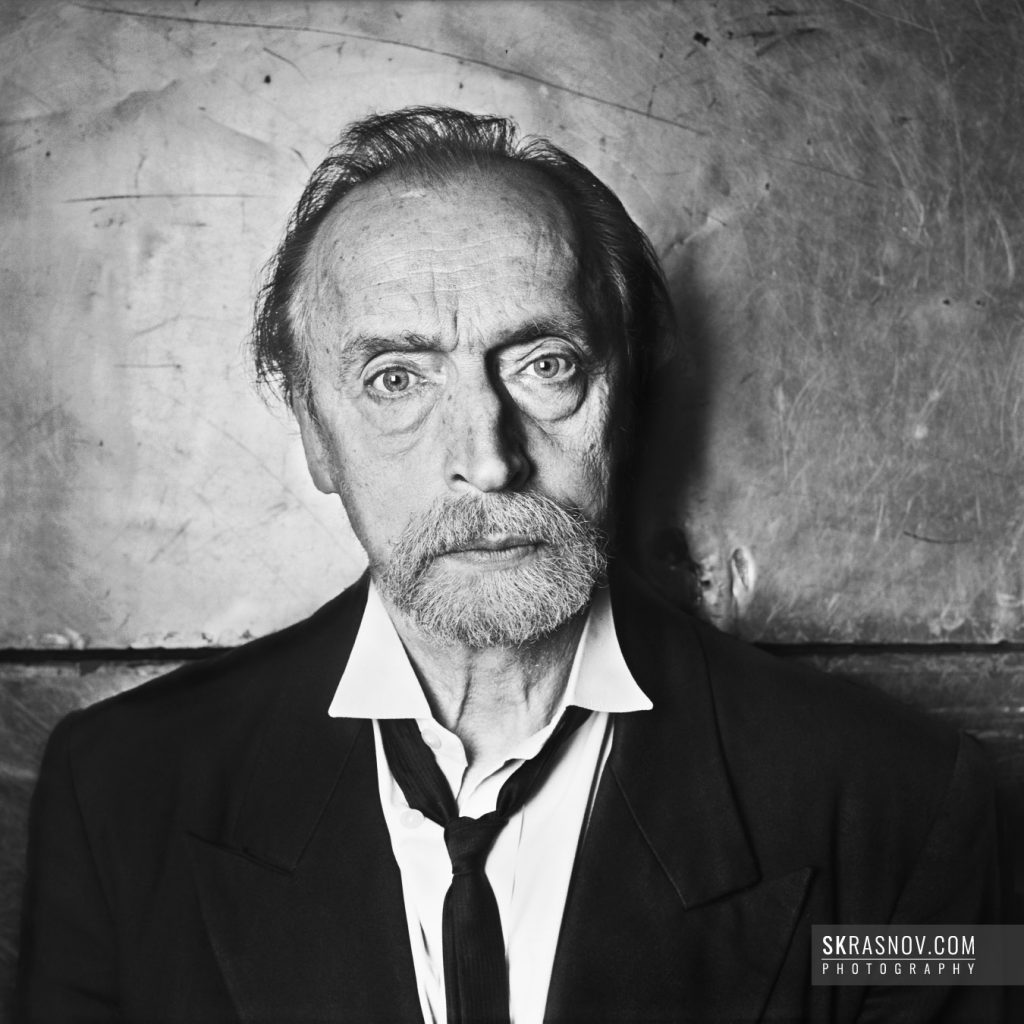 Boris Romanov is a very famous and, most importantly, talented Russian actor with a distinctive character. He no longer stars in movies but does a lot of theatre work.
It was my good friends from the Moscow-based Hermitage Theatre who commissioned me to take a portrait of Boris for his 65th birthday.
There is such a tradition in Russian theatres: in a lobby of any theatre, you can find photos of actors who have ever been associated with it and trace its entire history.
It was hard for Boris Romanov to find the time for a photoshoot because at that time he was engaged in a number of plays. So we finally decided to do it at the rehearsal room in the interval between his appearances on the stage, which lasted about 15 minutes. I prepared the light in advance, and when Boris came in he was obviously in his stage costume. As a background, I used a metal-plated wall, which added this glowing effect.
Vladimir Gusev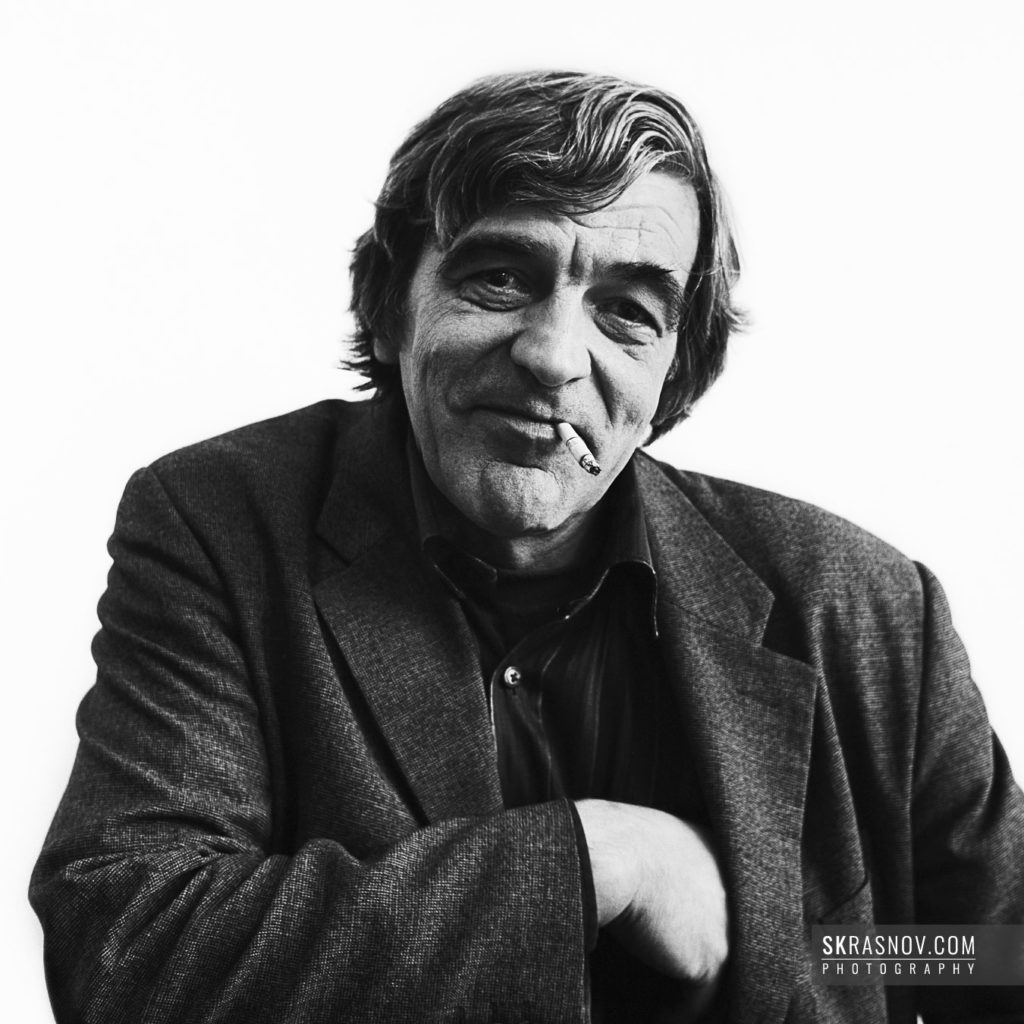 Vladimir Gusev is an interesting and authentic Russian actor. I got to know him when I did several portraits of actors for the Moscow-based Hermitage Theater. Before that, I had already seen several plays starring him and wanted to make his portrait.
We agreed that we would meet at the theater, and I had found a location for future shooting while waiting for Vladimir Gusev to finish his rehearsal. We began to discuss the shooting, I explained to him my vision and set about shooting. But all the images turned out "closed", as if we were separated by a wall.
I had only a few shots left on the film roll, we paused, and he started smoking and seemed to calm down a bit. Then, he reached into his pocket and began to get something out of it like a magician, who puts something in one pocket and pulls it out of another. And it was precisely at this moment that he seemed to open up, the wall disappeared and managed to take this shot.
Irina Zhuravleva
This is Ira, a producer. She is currently working on a very important documentary film. About the forest. Very few people make films about "the green lungs" of our planet because many tend to think that it is something lifeless, not suitable for shooting.
But Ira does film it. Because the forest is a major living organism, integral and large, where everything is interconnected. Ira works selflessly, collecting the money needed via crowdfunding platforms, gathering a team of like-minded people, – and eventually makes the movie.
Until the moment when Ira asked me to make her portrait, I had known her for several years. We communicated quite often, but our acquaintance was merely virtual. She repeatedly commissioned me to do a photoshoot of different personalities for the magazine she worked for at that time. But we had never met in reality.
Finally, this moment has come! Once Ira returned from another film shoot and invited me out, this time to make her portrait. We met in central Moscow and just went for a walk which turned into a two-hour outdoor photo session.
At one point we found an arch between two houses. The indirect light that passed through it was an ideal source of soft light covering a certain area. We also used a light-colored wall as a background.
Thus, on the one side, we had a source of light whose light pattern resembled that of a very big softbox, while on the other side, a reflector to compensate shadows. It all resulted in a series of outdoor portraits identical to ones shot in a studio with a big source of soft light.