Editorial headshots are not just portraits, some special kind of shooting, but an actual challenge. Shortly before the shooting, you are told some background information about it, the person you are supposed to shoot and the backstory for a future article. The writer or editor of the article for which the photos are taken might often have firm ideas about how best to portray their interviewee. And this is very different from your idea of what this portrait should be like, and, most importantly, from the conditions in which you expected to take the photos.
And although the shooting of such a portrait differs from shooting an "ordinary portrait", at the same time you are confined by both the editorial policy and very difficult shooting arrangements — a bad location, a lack of time, no possibility to set up lighting equipment, editorial staff's willingness to spend all the time on the interview and not the photoshoot, etc. All that you have learned can suddenly prove useful. It is at such moments that you understand whether you are worthy or not.
Juliette Lewis
In 2006 I was ordered to snap a photo of American actress Juliette Lewis. There was one condition, though: I should do it during her press conference in Moscow. I decided to set about this work because such an opportunity should never be missed.
Upon receiving this task I immediately thought of the movie Natural Born Killers in which she starred. For some reason, I imagined that in real life she would resemble her heroine in this film.
It is hard to make an outstanding portrait at a press conference. At such events, there are lots of talking, and only after it's over you are allowed to get close and make a couple of shots. But I do not like it. At all. Because in such a case I have to rely solely on luck.
So, the press conference with Juliette was gradually coming to an end. Suddenly, the entire pool of photographers stood up and rushed to the exit, with everyone trying to outdo others in taking pictures during her passage.
Heck! It was absolutely impossible to find a way through the crowd! It lasted about 15 minutes, with Juliette posing and photographers shooting. But I had to wait. It would be possible for me to do something special only after the crowd scattered.
Gradually, the throng trickled away and she remained almost alone. Meanwhile, I noticed that on the nearby wall there was an inscription in large fluorescent letters. It's such a great source of soft light! Much better than that from all those flash lamps.
I reached for my backpack and took out my camera with trembling hands. Strange, but for some reason, it turns out to be my old Pentax film with a 50mm lens, loaded with an Ilford Pan 400 film. Then let it be so!
Juliette, can I ask you to come and stand here, with your face against this inscription, so that the light from it fell directly on you. OK?
No problem.
Great!
But I beg you not to pose like you did before for them, I want to shoot "my" portrait!
I made a few frontal shots. And at a certain moment, she somehow looked into my camera in a very special way. Here it is!
Krzysztof Zanussi
It all started when I came at an early hour to a film set of the movie Foreign Body that Polish film director Krzysztof Zanussi was shooting at that time to make his portrait.
I was asked to come early because it was unclear when he would have a break to devote some time to me. My work is not as laborious as shooting films, but it also requires preparation.
I went to a manager with whom I preliminary agreed upon the photoshoot. And there I was told that all I had to do is wait, Krzysztof Zanussi would definitely have some free time. I did not really need much time, having prepared everything in advance to not lose time when the moment comes.
After a few hours of waiting, he finally decided to take a short break. I approached Krzysztof, introduced myself and told him about the purpose of my visit. He listened to me attentively and said:
First go to the costume designer. Let him select some clothes for you. You should first appear as an extra in the next scene of my film. And then, when everyone will go to dinner, I'll be at your service. Ok?
It seems I have no choice, doesn't it?
Exactly!
And then we really had a few minutes together, resulting in a very interesting conversation and a photoshoot. Some time later I also got a chance to make backstage photos.
Konstantin Khabensky
Konstantin Khabensky is a famous Russian actor, known in the West for his role of Anton Gorodetsky in the films Day Watch and Night Watch. He also runs a charity organization for children suffering from brain afflictions, which he founded after his wife died from a brain tumor.
I was assigned to snap his portrait by a Russian theatre magazine. During our first conversation, Konstantin said he'd prefer to have his street portrait taken rather than the stage one. I came a little earlier to find the best location on the street where his theatre was located.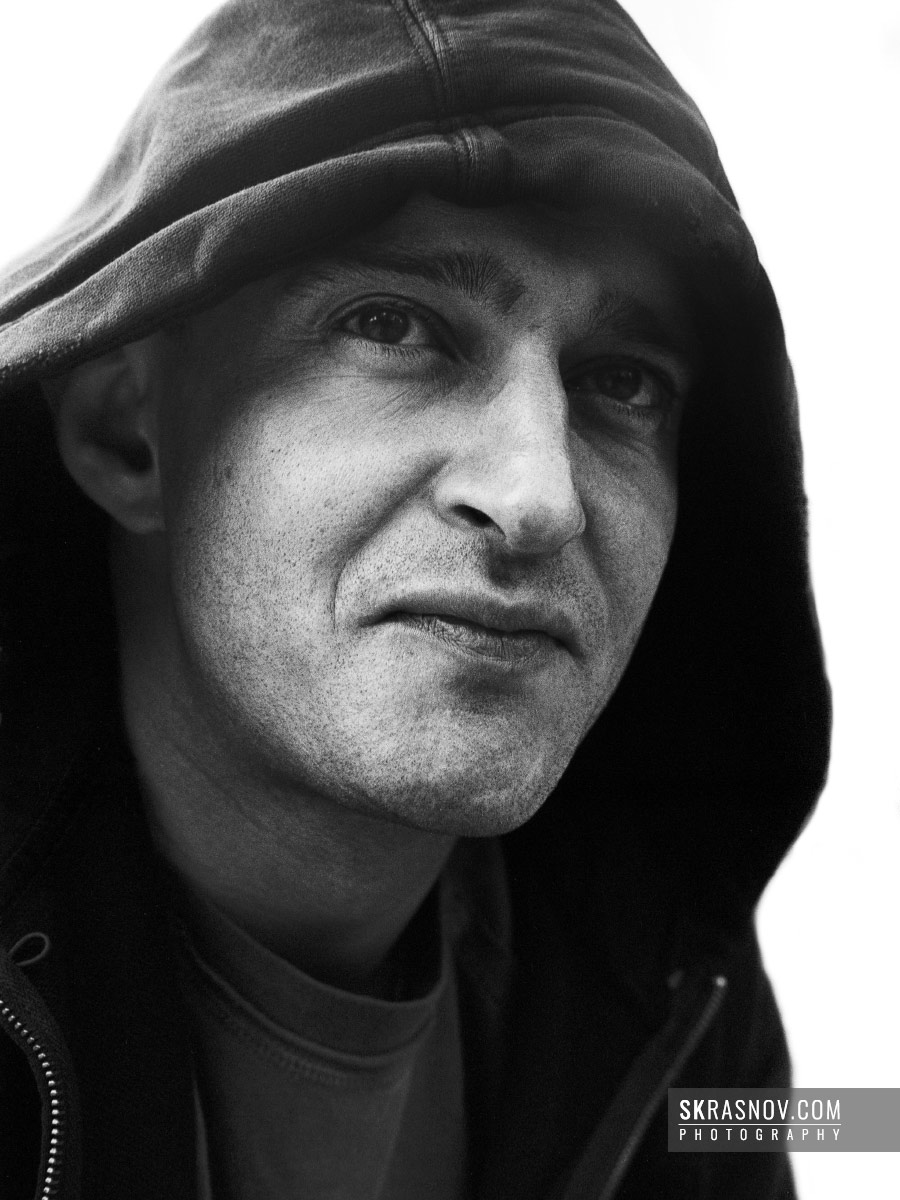 It appeared to be rather crowded, and since Konstantin is very famous in Russia, it was rather difficult to find a cozy and quiet place where no-one would disturb us. I shared my concerns with him and he jokingly suggested he'd put on the hood to remain unrecognizable for passers-by. So we did, taking his portrait against the white wall.
Then we decided to move to the inner courtyard of the theater, where the props from different plays were stored. We started discussing that it itself resembled "an outdoor stage but inside the theater". Among the objects was a rather strange blackboard of incomprehensible purpose, which probably served as a background for some plays. Voila, another photo has appeared.
Damien Hirst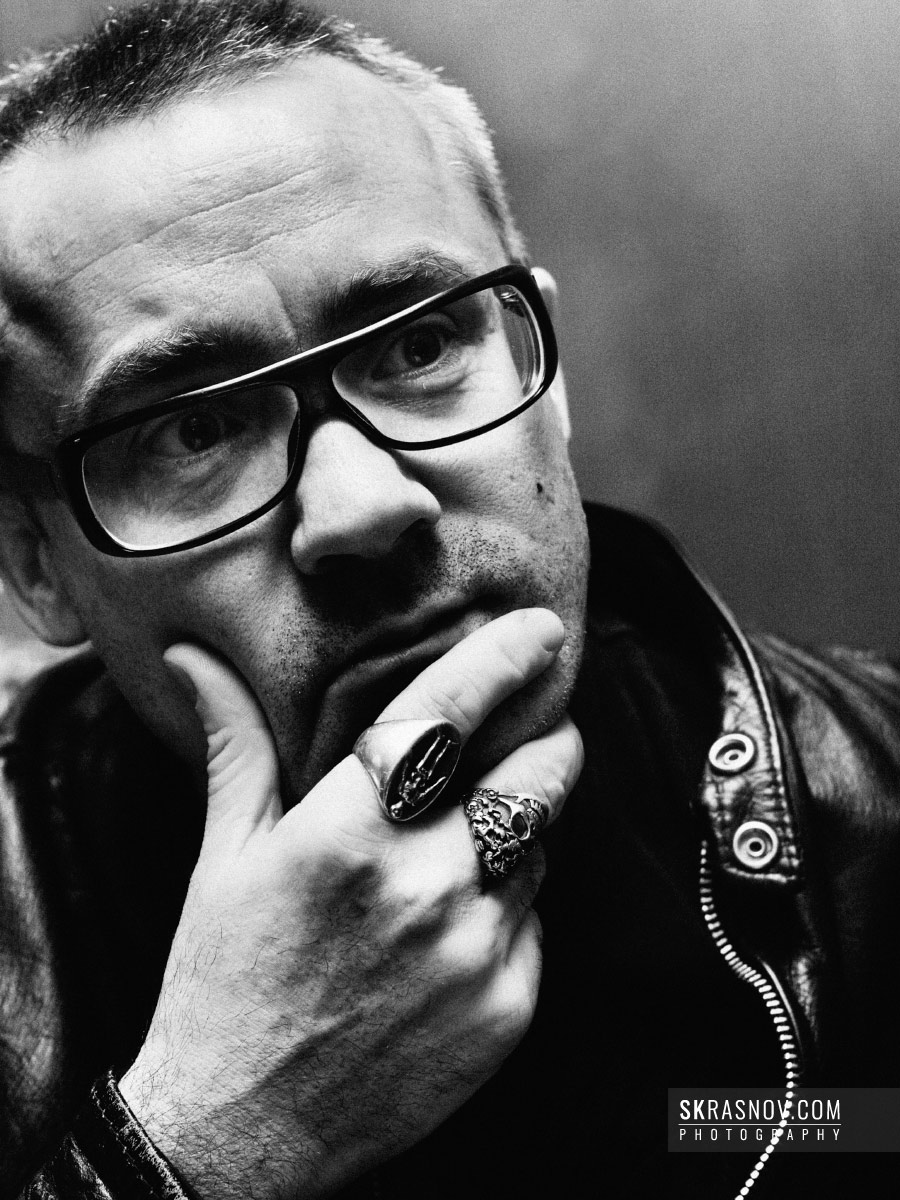 Damien Hirst is one of the most prominent representatives of so-called Young British Artists (YBA), a generation of postmodernist artists that came to prominence in the UK in the late 80s.
I got a chance to shoot Damien Hirst, reportedly the UK's richest living artist, when came to Moscow in mid-2000s to take part in a closed exhibition organized by Russian tycoons.
He looked a bit detached from reality, maintaining his iconic status.
Dmitri Vrubel
Dmitri Vrubel is a Berlin-based artist of Russian descent famous for his masterpiece My God, Help Me to Survive This Deadly Love.
This work is one of the best-known graffiti on the Berlin Wall, which embodies all the idiocy that was going on in the countries within the Soviet bloc at that time.
I was asked to make his portrait ahead of the anniversary of its creation to go with an article about Vrubel in an art magazine.
George Pusenkoff
George Pusenkoff is a somewhat unique artist who experiments with pixels in all their manifestations. His work Single Mona Lisa 1:1 was once aboard the International Space Station. His other work The Power of Blue was a subject of the court case with Helmut Newton who accused Pusenkoff of plagiarism, but the latter managed to defend his authorship.
It was an art magazine which commissioned a portrait of the artists. We met in a restaurant adjacent to Russia's famed Bolshoi Theater with the eponymous name, which had many works of Pusenkoff on display. Magazines often have their own idea of what photos should be like for an article, so they themselves decide where and how to shoot. At least they think so.
I made a few photos there but realized very quickly that I did not like that place at all. However, I noticed that on the opposite side of the street there was a building with a perfect white wall without relief, filled with scattered light. I took out my Yashica Mat 124G and we went outside to make a portrait against that simple background.
Dasha Charusha
Dasha Charusha is a Russian actress and singer currently residing in the USA. The most famous films in which she has starred are sci-fi action movie HardCore Henry, directed by her husband Ilya Naishuller, and arthouse horror film Dead Daughters by Pavel Ruminov.
Although in Russia she is better known as an actress, in fact, she excelled much more in composing. Thus, her scores for Russian movies Silent Souls and Cold Front got rave reviews in the press.
I made this portrait of her for a Russian cinema magazine before Charusha started her international career. I especially like her feminine and warm look at the portrait.
Viktor Yerofeyev
Viktor Yerofeyev is a Russian writer famous for his "anti-socialist realism" style, one of the most prominent examples of which is his book Life With An Idiot. It is this book which inspired famous composer Alfred Schnittke to write a namesake opera that was premiered in Amsterdam in 1992.
Another novel of Viktor Yerofeyev — Russian Beauty — won him a reputation in the West as a Russian writer who was bold to the point of physiological vulgarity.
This portrait of him was commissioned by Polish men's magazine to go with an interview with Viktor Yerofeyev about the Polish literature and culture, which he had a good knowledge of after spending many years there with his Polish wife.
Dmitri Nossov
Dmitri Nossov is a famous Russian martial artist, whose highest sports achievement is the title of Olympic bronze champion which he won in 2004 despite breaking his arm fighting the semifinal. He also had a go at acting and politics, but eventually focused on sports.
This portrait of him was taken for a Russian sports magazine which made an interview with Nosov about the judo school he opened in 2009.
Dino Di Modolo
Dino di Modolo is a Swiss watch designer of Italian descent, whose brainchild — Milan-based Di Modolo luxury jewelry brand — has won over the likes of actresses Catherine Zeta-Jones and Eva Longoria since its establishment in 2001.
It was a famous Russian jewelry magazine which commissioned his portrait to be taken at the opening of his first store in Moscow.
Sacha Lakic
Sacha Lakic is an French designer of Serbian descent, whose numerous futuristic creations always leave the public in awe. Throughout his career, which spans for over 30 years, he has exercised his talent in such different fields as architecture, furniture, car and motorcycle design, etc.
In one interview he Lakic said that he discovered his calling in his early teens when he saw a Ford Mustang in the street on the way back from school and it "touched his soul".
After that, the young man worked for leading companies, such as Peugeot and MBK-Yamaha, before finally setting up his own brand.
I snapped him during the opening of his concept store in Moscow back in 2009 and was left impressed by his warm personality and inner energy, which is perceptible on the photo.
Jeremy Morris
Jeremy Morris is a British jeweler, working for a famous brand founded by his father, David Morris. Throughout its history spanning almost half a century, the David Morris jewelry house has designed and crafted a variety of exquisite pieces, ranging from the Miss World crown to jewelry for the James Bond franchise.
I was commissioned to take his portrait by a jewelry magazine, so we met in the company's workshop above the Bond Street store and spent about an hour on the photoshoot. I was even allowed to have a sneak peek at his work in progress, which was truly fascinating.
Count Henri Tobie de Monspey
Count Henrey Elisée de Monspey is a French nobleman. He is the sole heir of the Raynaud factory producing famous Limoges porcelain.
I snapped his portrait at the opening of his elite porcelain store and was really stunned by how open and unsnooty he was to his Russian clients.
Donatella Flick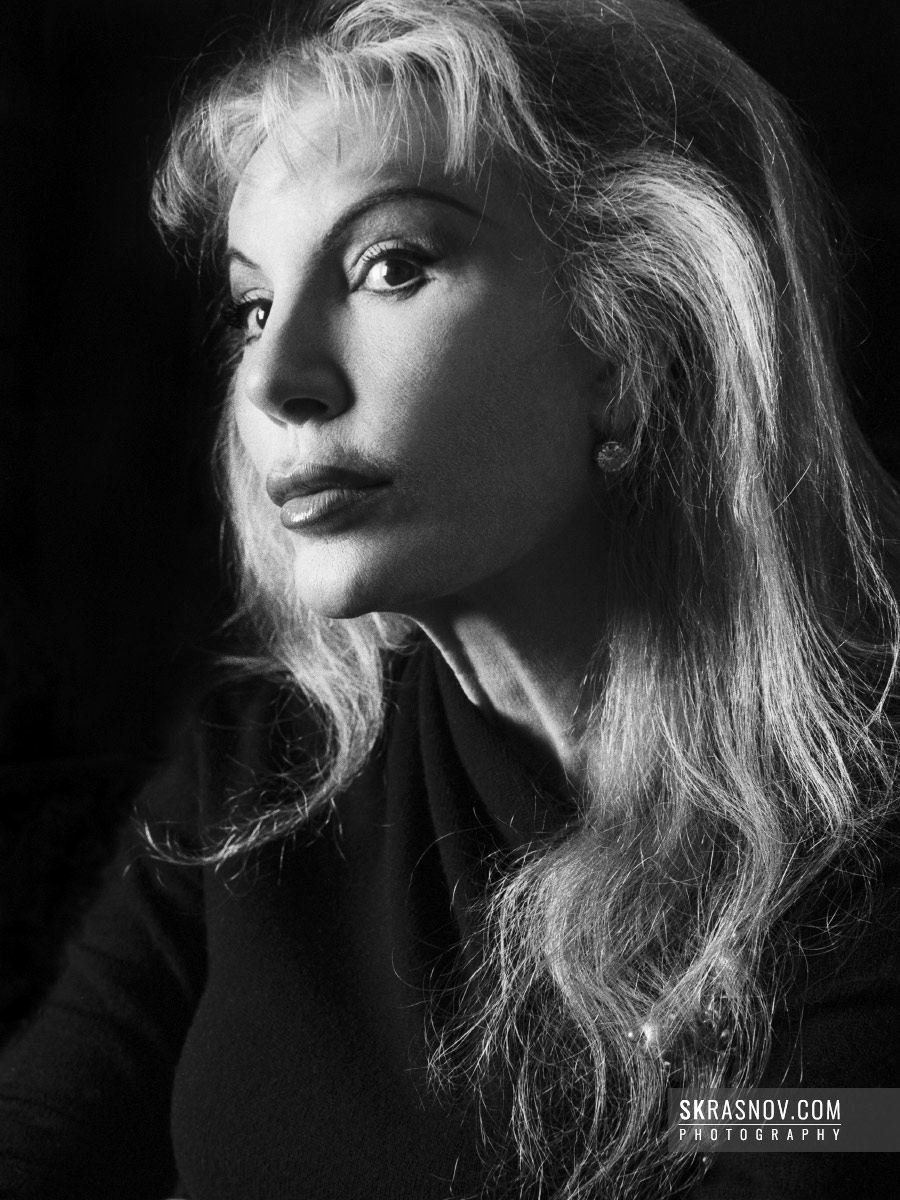 Donatella Flick is an Italian philanthropist who received international acclaim for her support of the arts. She also has noble Russian roots in her father's lineage: her father, an Ossetian prince, fled Russia after the 1917 Revolution, while other members of her family were killed.
In 1990 she founded the Donatella Conducting Competition, with support from HRH The Prince of Wales Charles, to help advance career opportunities for young conductors.
I made this portrait during one of her visits to Moscow to attend a concert.
Guido Damiani
Guido Grassi Damiani is a descendant of a renowned Italian family of jewelers, who is now in charge of the cult Damiani brand. Established in 1924 in Italy, its unique creations have been worn by screen legends such as Sophia Loren and Sharon Stone.
Although Guido did not follow in the steps of his father and grandfather when it comes to the jewelry craft, it is him who managed to boost Damiani's popularity after he came aboard the family business in 1994.
I took a photograph of him for a lifestyle magazine during his visit to Moscow.
Valery Koshlyakov
Valery Koshlyakov is a famous Russian artist living in Paris. His road to fame started at the Iskusstvo ili Smert (Art or Death) movement, which was one of the most provocative and outstanding groups of young artists during the Perestroika period.
One of the distinctive features of his style is frequent use of cardboard from packaging boxes for household appliances, as well as a colored adhesive tape placed directly on the wall.
I have known other members of this art group, which included not only artists but also poets, for many years. Valery once complained to me that he was about to hold a major exhibition, but did not have a good portrait of him for a complete catalog of his works.
In that case, I decided to disregard all the rules and make his portrait in profile as if it was a bas-relief on a commemorative medal.
Robertino Loreti
Robertino Loreti is an internationally renowned Italian singer, famous for the songs he performed as a teenager, such as Ave Maria, O sole mio, Jamaica, and others.
He is best known and loved in Eastern Europe, where LPs with his songs were sold in millions of copies during the Soviet time. Robertino is still popular in this part of the world and his concerts are usually sell-outs.
Although the singer himself matured decades ago and supposed to be called Roberto, he is primarily known for his pet name.
We met for a photoshoot in Café de Paris in Rome, situated opposite the Excelsior hotel frequented by many celebrities throughout the years. Among its guests was famous actor-comedian Totò, who revealed Robertino to the world.
Jose Enrique Ona Selfa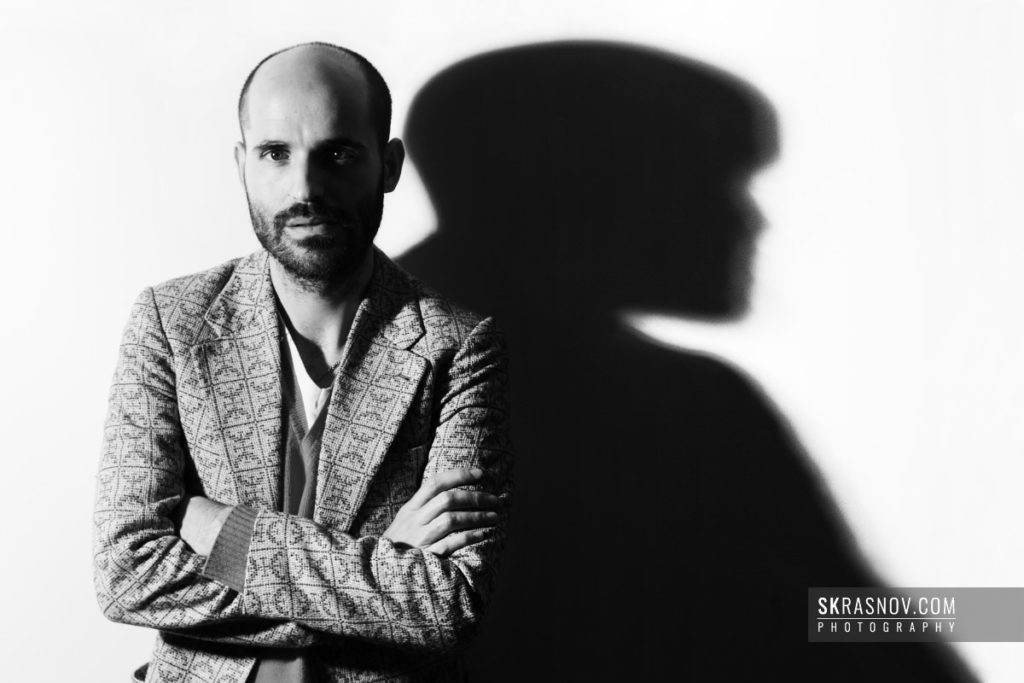 Once I received a request to do quite an extraordinary photoshoot. I had to spend a day with a fashion designer and shoot his entire daily routine.
The man was Jose Enrique Ona Selfa, a creative director at LOEWE. He was due to present his company's new fashion collection and my photographs were supposed to be distributed for the press.
It is quite a difficult task itself to do photography in different genres. And considering that I am more of a portrait photographer, it was a real challenge for me. Anyway, I decided to also do a portrait of him. But Jose had such a tight schedule that a chance to do that emerged only by the end of the day.
I decided to use a light-colored wall as a neutral background to not distract viewers' attention. With a flashlight on his left, Jose's body produced a beautiful shadow, resulting in an almost ad-like shot. Done. And now let's make a close-up with a piercing glance but different light. Then we made another shot, and then another one, and after that switched to color photography.
On the next day, I went to a photo lab to get the photos printed, determined to present them to Jose before he leaves. This portrait is no worse than the works of Richard Avedon, he said…
We had a nice conversation and bowed out, exchanging our emails. I could have dropped the curtain at this point, noting that it was an important and interesting experience for me.
But several years later I received a letter from Jose asking me to send him the digital pictures of him if I do not object them being published in Vogue along with an article on him. Initially, it was Karl Lagerfeld who was supposed to do his portrait, but "you know, I like the portrait made by you more, let's use it", he said.
Paco Rabanne
A well-known fashion designer of French and Spanish descent, Paco Rabanne, visited Moscow as a child during the USSR times. He was even introduced to Soviet dictator Joseph Stalin.
But more important is the fact that he was one of the first designers to use black models on the catwalk in 1964 along with another fashion legend, Yves Saint Laurent. At that time many in the fashion industry refused to work with him because it was deemed "for whites only". And very few people know that Paco Rabanne is quite a successful artist.
The photoshoot was carried out simultaneously with an interview, as it often happens. Like any media persona who used to get photographed, Paco often paused and made factitious facial expressions for me to snap him. I did not like it very much, because I prefer to shoot genuine portraits.
At one point I almost touched his hand with my camera. He then looked at me with a slightly surprised expression that lasted probably no more than a second. Enough to press the shutter button.
Marina Aleksandrova
Marina Alexandrova is a popular Russian actress, who is especially famous for her role of Russian empress Catherine the Great.
She is not really well-known outside of Russia, having starred in just a handful of foreign films, which I find pitiful. And I bet that a woman warrior character in an international fantasy movie will really fit her.